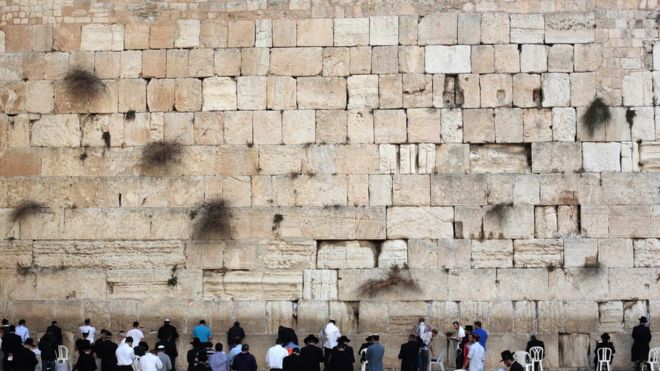 "A Belgian artist has faced a backlash in Israel after posing nude in front of one of Judaism's most sacred sites.
Marisa Papen posted the image of herself reclining naked on a rooftop overlooking the Western Wall in Jerusalem.
The rabbi of the site described the incident as "grave and lamentable".
Last year, Ms Papen was briefly detained after taking naked photos at an ancient Egyptian temple in Luxor.
On her website, the young model describes her way of life as "a naked form of freedom where masks are torn off and thrown in the ocean". Many of her publicly posted images are nude modelling shots taken all over the world.
In a blog post on Saturday entitled "The Wall of Shame", the model said her experiences in Egypt had made her want "to push the bounderies [sic] of religion and politics even further… [by] showing my personal religion in a world where freedom is becoming a very luxurious thing".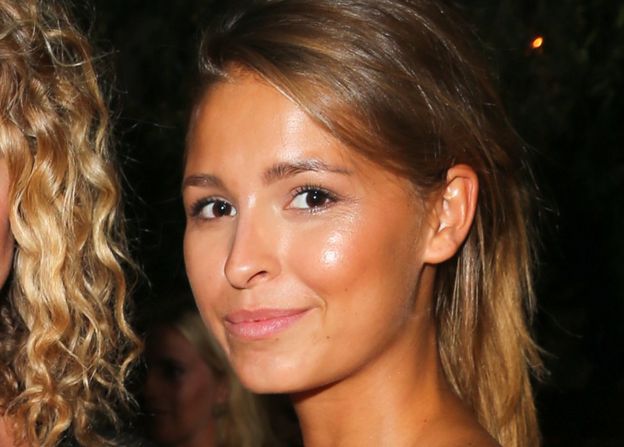 Photos from the trip showed the model in the Dead Sea and straddling an Israeli flagpole.
But the most provocative image was of Ms Papen posing naked in view of the Western Wall. It is a remnant from the time of the biblical second Jewish temple and the most sacred place where Jewish people can pray.
Jewish religious authorities were quick to condemn the photograph.
The Rabbi of the Western Wall, Shmuel Rabinovich, told Yedioth Ahronoth newspaper: "This is an embarrassing incident, grave and lamentable, which offends the sanctity of the site and the feelings of those who visit the holy places."
Responding to the controversy in a Facebook post on Thursday, Ms Papen wrote: "I am perplexed with the fact that people who believe a God created our bodies (yes, including boobs and our private parts) could think skin is offensive".
Some of those commenting online accused Ms Papen of anti-Semitism and of deliberately excluding the Dome of the Rock and religious sites sacred to Muslims, just out of shot, to protect Muslim sensitivities.
However, the model insisted that this was not the case. "It was just way better artistically," she told The Times of Israel.
A separate photo from the shoot does in fact show Ms Papen naked, looking out at the Dome of the Rock.
The model's trip to Egypt in September also sparked outrage, after she was photographed naked for a sunglasses advertising campaign from inside the conservative Muslim-majority country.
Ms Papen did not have permission from the country's authorities to take the images, and she later said that she and her cameraman had to bribe a policeman who interrupted their shoot at the pyramids in Cairo.
Describing the negative response of two passers-by, she said: "We tried to explain them that we were making art with the highest respect for Egyptian culture, but they could not see a connection between nudity and art. In their eyes it was porn, or something like that."
Their problems increased in a temple in the historic southern city of Luxor, where they were stopped by police and spent a night in an Egyptian prison before being released."
Papen Responds To Criticism
"First of all, 'don't judge a book by its title'… This purely implies the shame you, dear reader, (perhaps) will project on me because I have done something so disrespectful, I should burn in hell.  I know my mailbox is about to fill up with threats and angriness again – to all the people typing down their furiosity right now, save your energy. I don't even open them.
After my escapades in Egypt (read here). I knew that I wanted to push the bounderies of religion and politics even further. Breaking down the walls that have been build to keep all our wandering souls on this planet somehow under control.
With other words, showing my personal religion in a world where freedom is becoming a very luxurious thing.
That freedom this time was captured by Mathias Lambrecht on a 3-day road trip through Israël. From Tel Aviv to Jerusalem, to the Dead Sea and back. I don't know if this was coincidence or not, but exactly when we arrived the American embassy opened and on the day we were in Jerusalem, Israël was celebrating their 70 year independence-anniversary.
​While the rest of Jerusalem was celebrating,  I was enjoying the afternoon sun on a rooftop after a morning of running around in the desert – capturing our last frames of the trip.
I'll probably share some more images of this series later on but for now, the other images of this series can be seen at the Frank Rose Gallery in Knokke, Natiënlaan 52.  Which will be open from today till the end of September."