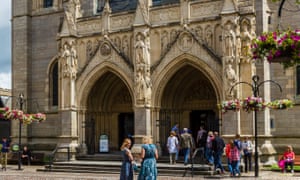 Jeremy Dowling was jailed in 2015 over abuse carried out in the 1960s and 70s
"Four former Church of England bishops failed to act over sexual abuse carried out by a former member of the church's ruling body, the General Synod, in a catalogue of missed opportunities, a review has found.
Among the four was Michael Ball, the bishop of Truro between 1990 and 1997 and the identical twin brother of Peter Ball, the former bishop of Lewes and Gloucester, who was jailed in October 2015 for abusing vulnerable young men over a 15-year period.
The review examined the church's response to disclosures of abuse against Jeremy Dowling, who was jailed in 2015 for indecently assaulting boys while a teacher at a school in Cornwall in the 1960s and 70s.
Dowling, who was also a lay preacher at St Michael's, Bude, was elected to the General Synod in 1977, and was employed by the diocese of Truro as a communications officer from 2003 to 2009.
A review by the diocese published on Friday found that four bishops were told about the abuse but took no action. "There is no doubt that there were a number of missed opportunities for the diocese of Truro to undertake its own investigations into the allegations made in 1972 against Jeremy Dowling," it concluded.
In September 1972 the chair of the board of governors at the unnamed school wrote to Maurice Key, the then bishop of Truro, to inform him that Dowling had quit his post after admitting to offences, and that the parents of some pupils intended to pursue a prosecution.
Key replied: "It is terribly sad that this should have happened, not only because it is a tragedy for Jeremy Dowling but it can be a real blow for the school and the church." No action was taken.
According to correspondence reproduced in the review, the director of public prosecutions concluded later that year there was insufficient evidence to proceed with a case against Dowling, while stressing that the allegations could be true.
Key responded to being told there was no case to answer by writing: "I suppose the problem will now be to find him some other work."
The review said: "No institution or organisation should have relied on a police criminal investigation to make judgments on the conduct of those it employs or engages with. It has its own responsibilities to judge such behaviour. These judgments are not tied to the criminal standard but to the civil standard, ie 'are events more likely than not to have happened' or 'on the balance of probabilities'."
In 1986, Peter Mumford, a later bishop of Truro, requested an assessment of Dowling's character from an unnamed priest. The priest referred to the 1972 allegations of sexual abuse and to Dowling's "sadistic behaviour".
Mumford responded: "Whatever may have been Jeremy's 'past' or his 'playing God' in the present, he is a remarkable person who has strong leadership and pastoral gifts combined with a very real commitment to the gospel and Christian ministry of one sort or another."
By then there was a "good fat file" on the former teacher, Mumford told the diocese director of ordinands when Dowling was considering applying to become a priest.
Mumford added: "There is no need to read it all, and I have myself deliberately refrained from reading up the complicated story of what is alleged to have happened some years ago when he was a schoolmaster. Richard [Llewellin, the then bishop of St Germans] has done so, and is quite satisfied that whatever happened was at worst a kind of indiscretion and is much best forgotten, even though, unhappily, one or two people … still have hesitations about Jeremy."
Llewellin told the review's author he had no recollection of the files or ever reading them, but "cannot deny it may have happened". Llewellin's stance "completely abdicates responsibility and was a missed opportunity," the review found.
Michael Ball, who became bishop of Truro in 1990, told the review's author that he had been "informed of the allegations and the police not taking further action. As such he saw no need to himself. Neither did he view the file of information on Jeremy Dowling that he had been referred to by his secretary."
Andy Thompson, the review's author, said: "I was disappointed by what I found, but not surprised. Sadly, we have heard numerous examples of people in positions of power and influence behaving in a different way in the 1970s when it came to dealing with serious allegations."
In response to the review, Chris Goldsmith, the bishop of St Germans, said: "It is clear that abusive behaviour flourishes where there is a culture of secrecy, and so it was important that we made the findings of this review widely available. We are committed to being transparent.
"My apology on behalf of the diocese to anybody who has suffered as a result of past failings is abject, sincere and heartfelt. It was with a sense of disappointment, sorrow and shame that we read of a failure to act and make any independent investigation of Jeremy Dowling after the initial allegations were made.""