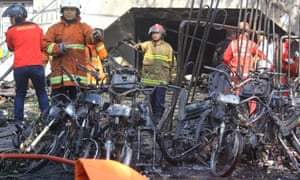 "At least eleven people have been killed and dozens injured in multiple suicide bombings at three churches in Surabaya, Indonesia's second-largest city, in the worst attack the country has seen in more than a decade.
The first explosion at the Santa Maria Catholic church, which killed four, was followed by attacks at the Surabaya Centre pentacostal church and GKI Diponegoro church minutes later.
The East Java police chief, Insp Gen Machfud Arifin, told reporters suicide bombers carried out the attacks using motorcycles and cars.
Initial reports from witnesses suggested one of the attackers was a woman with two children.
"I heard two explosions, one was in the church's parking lot and the other was outside the church. The woman was with two little boys," Johanes, a member of the GKI congregation, told Kompas TV.
The Indonesian president, Joko Widodo, and the national police chief, Tito Karnarvian, visited Surabaya on Sunday. At a news briefing, Widodo confirmed that two children had been used in the bombing, and condemned the "barbaric" attacks.
"I have instructed police to look into and break up networks of perpetrators," said Widodo.
The blasts occurred within 10 minutes of each other, police said, with the first explosion at 7.30am (0030 GMT).
Indonesian police cordoned off the sites for investigation, and have not yet confirmed the identity of the attackers.
East Java police spokesperson Frans Barung Mangera said 41 injured people were sent to hospital on Sunday, among them two officers who were guarding the churches.
The coordinated attacks in the predominantly Muslim country came days before the start of the holy fasting month of Ramadan.
Indonesian intelligence agency officials suspect the Isis-inspired group Jemaah Ansharut Daulah (JAD), was behind the assaults. The militant group is headed by Indonesia's leading Isis proponent Aman Abdurrahman, who is said to have ordered the 2016 Sarinah attack in Jakarta, which killed eight people.
Sunday's attacks follow a deadly prison riot at a maximum-security detention facility in West Java last week, when Islamist inmates killed five officers after taking them hostage and controlled three prison blocks for 40 hours.
The church attacks were likely linked to the prison hostage standoff, said Wawan Purwanto, the communication director at Indonesia's intelligence agency.
"The main target is still security authorities, but we can say that there are alternative [targets] if the main targets are blocked," he said.
News of the riot at the Mako Brimob detention centre has reverberated through jihadist networks, said Todd Elliot, a Jakarta-based security analyst from Concord Consulting.
"Whatever happened in Mako Brimob has certainly reinvigorated domestic militants. Online jihadi social media has been abuzz in the last couple of days with celebratory messages and calls for more attacks," said Elliot.
However, the degree of coordination, multiple bombings at three different locations just minutes apart, suggest the Surabaya attack was well planned.
"As far as the capabilities of Indonesia jihadists this was definitely a well-organised and well coordinated attack," said Elliot.
Sidney Jones, a terrorism analyst, reinforced that view: "This is the deadliest attack that Isis supporters have been able to mount so far," she told the Guardian in a text message. "Most of their earlier bombing attempts failed."
Terrorism analyst Noor Huda Ismail, who has been monitoring the chatter of extremist networks on social media, said Indonesian women have been expressing increasing desire to get more involved in violent extremism.
On Sunday those same networks discussed the women allegedly involved in the Surabaya attacks. If confirmed, it would be the first time a woman has successfully detonated a suicide bomb in Indonesia.
"It will change the whole landscape of radicalisation in Indonesia because first when you are a women involved it sends a message… 'I open up jihad for you'."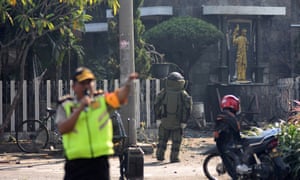 Hours before Sunday's attacks, Indonesia's counterterrorism squad shot dead four suspected terrorists from the JAD network in Cianjur, West Java. Police seized two handguns and three bags containing explosives.
Police ordered the temporary closure of all churches in Surabaya on Sunday, and a large food festival in the city was cancelled.
Indonesia is home to significant numbers of Christians, Hindus and Buddhists but there are concerns over rising intolerance. Extremists have mounted a series of attacks against Christians and other minorities in recent years.
Indonesian police shot and wounded a man who attacked a church congregation in Sleman town with a sword during Sunday mass in February. The radical Islamist, who had wanted to fight with the Islamic State group in Syria, injured four people.
Sunday's attacks were the deadliest since 2005, when a series of car bombs killed 23 people on the resort island of Bali. The worst terror attack in Indonesia was the Bali bombing of 2002, when 202 people were killed."