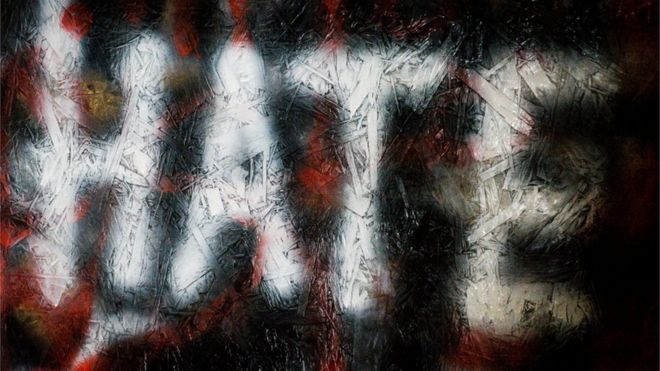 "Fewer people are being charged with racially and religiously aggravated hate crimes in England and Wales, despite a two-fold increase in reports.
Every police force that responded to a Freedom of Information request reported an increase in hate crimes between January 2013 and December 2017.
During this time the number of charges issued was lower than in 2013.
One force said a number of factors, such as out-of-court resolutions, contributed to the discrepancy.
A hate crime is defined as "any criminal offence which is perceived, by the victim or any other person, to be motivated by a hostility or prejudice".
The BBC investigation focused on two of the five categories of hate crime – religion, faith or belief, and race, ethnicity or nationality.
The BBC sent a Freedom of Information request to all 43 police forces across England and Wales and received the full five years of data from 38.
Between them, they recorded about 47,000 racially and religiously aggravated hate crimes in 2017, compared with 22,296 in 2013.
But there were 600 fewer people charged in 2017, compared with 2013.

Case study: Attacked by youths for being Polish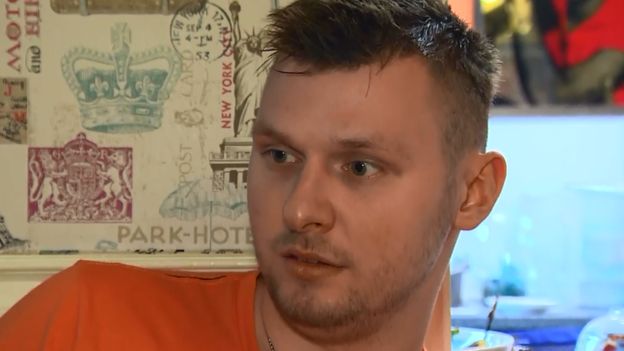 "They hit me, they laughed at me, and they had no respect for me," recalls Marta, 45, after being attacked by a gang of youths on her way home in Swindon.
"They were laughing at me because I spoke Polish. They think that they don't have to respect me because I'm Polish, I'm below-human to them."
Marta's 25-year-old son, Tomasz, said the incident left him feeling "devastated and angry".
"People want to find out where you're from, and usually it doesn't end in a nice way. What happened to my mother has happened to me."

Greater Manchester Police recorded 2,720 hate crime cases in 2013 and 7,526 in 2017. Following the Manchester Arena attack in May 2017, the force says it received an increase in reports.
The force's hate crime lead, Ch Supt Wasim Chaudhry, said his force's figures reflected the national picture.
He said officers had to meet "competing demands" with fewer resources, and there were "instances where victims do not necessarily want to pursue a case through the criminal justice system but want the behaviour to stop".
A spokesman for Northamptonshire Police, which recorded a drop in charges of 47%, said there were "a number of reasons" for the reduction.
"Often the identity of the offender is not known, there may be insufficient evidence to be able to proceed with charges or the matter could be dealt with by way of an out-of-court disposal, including restorative justice if that option is supported by the victim," he said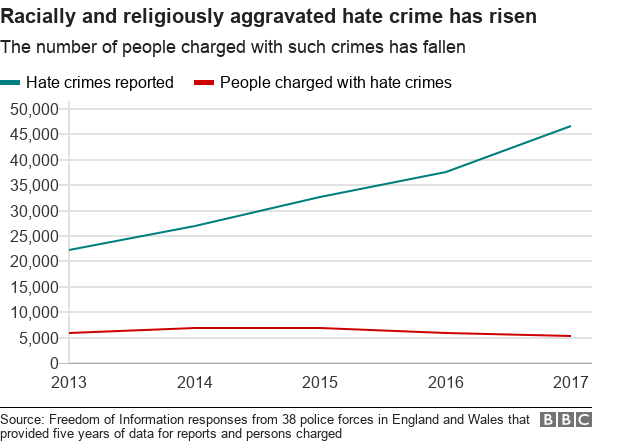 Of those that gave the full data, Northumbria Police recorded the largest proportional increase in the number of reports over the five-year period.
It received 578 reports in 2013, rising to 2,173 in 2017 – equivalent to a 276% increase.
Northumbria was one of 15 forces to record an increase in the number of people charged with committing racially and religiously aggravated hate crimes, going up 33% to 363 in 2017.
"The number of individuals that are being charged to court after the report of a hate crime should reassure victims that we will take action if they report an incident to us and that we take their report seriously," said Superintendent Nicola Musgrove, Northumbria Police lead for hate crime.
"Hate crime is something which has been underreported for a long time, but now more people have trust and confidence to come forward and report it.
"There has also been a significant improvement in how we record hate crime and a better understanding among officers about what constitutes a hate crime and the additional support that can be provided to victims of this type of crime."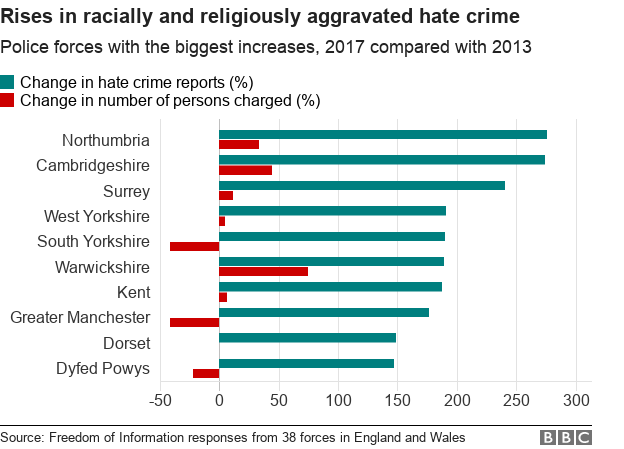 In 2016-2017 there were 9,157 sexual orientation hate crimes, 5,558 disability hate crimes, and 1,248 transgender hate crimes.
"Hate crime is completely unacceptable and there are robust laws in place to stop people committing these vile attacks," says a spokesman for the Home Office.
Northamptonshire Police recorded 352 hate crime cases in 2013 and 559 in 2017 – an increase of 58%.
Despite this, the number of people it charged with committing racially and religiously aggravated hate crimes fell by 47% to 68 in 2017.
"We have worked hard to give victims the confidence to report all forms of hate crime and provide them with a tailored response," said Assistant Chief Constable Mark Hamilton, the National Police Chiefs' Council (NPCC) Lead for Hate Crime.
"These statistics do not include situations where individuals are cautioned for offences, meaning that they only give a partial picture of the overall policing response.
"We have been working with forces to understand why charges fell in 2015-2016. Early indications show that the referral rate is beginning to increase again and we will see whether this reversal is reflected in the official figures, which are due to be published in October 2018.""