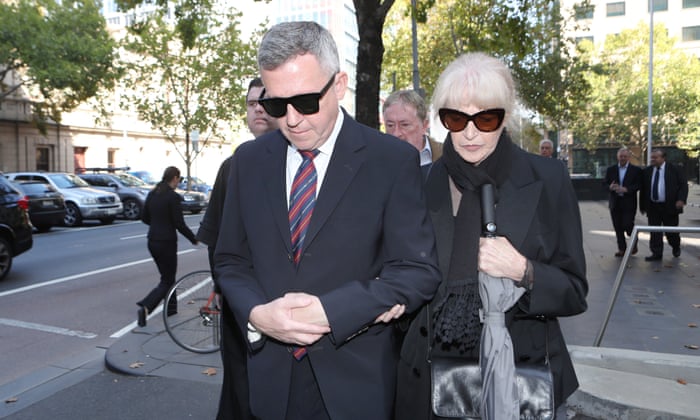 Philip John Murphy gets suspended sentence as the crime did not involve any sexual activity with children
"An Anglican priest in Melbourne who was caught boasting about his child sex abuse fantasies online has been spared jail.
Former Sunshine vicar Philip John Murphy, 53, was given a wholly suspended 12-month jail sentence on Friday after he was caught engaging in sexually explicit online chats about children.
The priest had pleaded guilty earlier this week in the Victorian county court to transmitting child sexual abuse material using a carriage service between 2016 and 2017.
Judge Phillip Coish said the priest's crime did not involve real children.
"I accept that there was no sexual activity with children, nor were there any photos or videos involved in these communications," he said.
Under the username "Pervert", he approached multiple men on Grindr and asked if they were interested in children and arranged to chat to them on Skype.
Murphy even sent photos of himself in his clerical collar to gain trust.
In one conversation, he offered to get a motel so he could sexually abuse a boy.
"Can't host I'm afraid. Church house. Can get motel," he wrote on 29 December 2016.
Two months later, he told another man he was "loyal" to the Anglican church.
"Well you know my work and I have to be discreet. And other than abusing the trust of the Church in this matter, am loyal," he said.
Murphy told one man he wanted to sexually abuse hundreds of children as young as two years old.
"The communications were grossly offensive and deeply disturbing," Coish said.
Police searched Murphy's laptop in February 2017 when he returned from a trip to Hong Kong.
In August, they searched his home and Holy Apostles' Anglican church in Sunshine West, before charging him with multiple offences. 
During his police interview, Murphy said he was drawn to the online chats because of his depression. He also told police he did not realise his chats constituted child sexual abuse material.
The prosecution had pushed for an immediate jail sentence, but Coish said on Friday he had decided it was appropriate Murphy be released.
Murphy has been ordered to undertake a sex offender program and be of good behaviour."