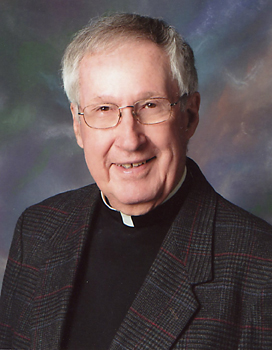 "The Rev. Paul Monahan's conviction on five counts of invasion of privacy was reversed Wednesday, as the Iowa Court of Appeals said the prosecution failed to show the complaining witnesses had a reasonable expectation of privacy in a public bathroom, among other findings.
Monahan declined to comment Thursday morning.
After the reversal was made public Wednesday, Monahan's attorney, Dan McGinn, said in a statement they were pleased — but not surprised — by the unanimous decision by the court of appeals.
"The Court found the evidence did not support the conviction. Unfortunately, there is nowhere for Father Monahan to go to have his reputation restored," McGinn said.
Diocese of Des Moines Bishop Richard Pates said he was pleased with the reversal.
"Along with Father Monahan, we are relieved that this decision has been reached and anticipate that Father will be fully reinstated to priestly ministry once the appeal process has been completed."
Pates commended Monahan and his legal team and asked for continued prayers and support for Monahan.
Monahan, 85, was found guilty in a bench trial in late 2016 and was given a suspended sentence of 30 days in jail, a year of probation and was ordered to register as a sex offender for 10 years. Unless the state appeals the reversal, Monahan will be removed from the registry within 20 days.
Attempts to contact Monahan on Wednesday through church representatives were not immediately successful. Bill McGinn, another lawyer who represents Monahan, said his client was thrilled to be vindicated, but probably should not comment directly to the media until all legal proceedings are finished.
In 2016, authorities alleged the former St. Albert High School principal had invaded the privacy of five male high school students who said the retired priest looked at their genitals in a public restroom during a Treynor High School track meet.
In court, the students said Monahan had entered the restroom nine times and took a position at the urinal next to one of the teens despite others being open. They said he then stepped back and intentionally looked down at their genitals.
Monahan's physician testified at the trial that his frequent visits to the restroom were because of a medical condition rather than any sexual desire. Bill McGinn said during the trial that his client often looked down because of a "crick" in his neck.
Lynn Hicks, communications director for the Iowa Office of the Attorney General, said they are weighing the options on appealing the appeals court reversal.
"We can't say at this point if we will seek further review on this case," Hicks said. The next step, if the reversal is appealed, would be taking the case to the Iowa Supreme Court.
According to the reversal decision, former Pottawattamie County Sheriff Lynn Ford — who died from complications of prostate cancer on April 22 — testified the investigation was problematic because witnesses were not interviewed until several weeks after the incident.
Ford also stated officials should have done more to determine the extent to which the witnesses spoke about the incident to each other before being interviewed.
Several employees or former students of St. Albert's said Monahan had issues with balance and walking around.
Monahan's attorneys claimed the prosecution did not show that the five witnesses had a reasonable expectation of privacy while using the urinals in a public restroom.
As a criminal offense, invasion of privacy occurs only in situations where one has a legitimate expectation of privacy, which is made on a case-by-case basis, the report reads.
The court cited previous cases where it was ruled there was no reasonable expectation of privacy in an open urinal area, even with partitions between the urinals.
"Considering the configuration of the restroom, we find the urinals were in an open, common area," the report reads, regarding the boys' bathroom at the Treynor track meet. There was a diminished expectation of privacy since, as a public restroom, anyone could walk in and use it, they said."