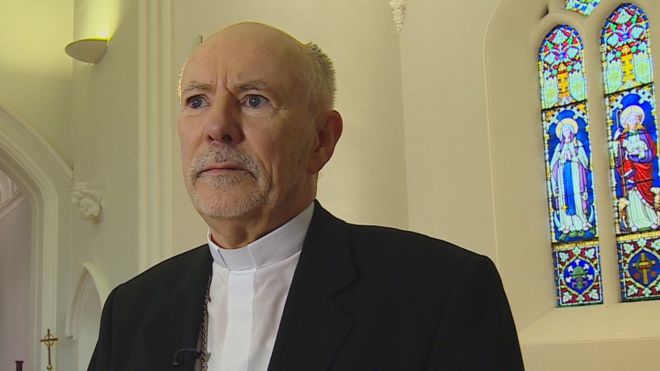 "One of Scotland's top bishops claims the Catholic Church may be its own worst enemy in spreading its beliefs.
The Bishop of Galloway has released a letter suggesting: "It could be argued that the greatest obstacle to preaching the gospel today in Scotland is the Catholic Church itself."
The clergyman's letter came just days after a priest from his diocese was jailed for child sex abuse.
He said negative publicity was "embarrassing" to Catholics.
The pastoral letter from Bishop William Nolan said recent sexual abuse scandals involving clergy called into question the trust parishioners have in their priests.
Father Paul Moore, 82, was jailed for nine years for sexually abusing three children and a student priest in crimes spanning more than 20 years.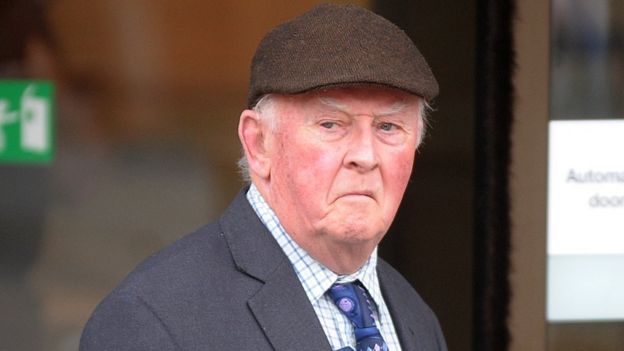 Father Moore committed the crimes at various locations in Ayrshire between 1977 and 1996.
The court heard how he abused one boy at a school, another at a leisure centre and a third on the beach at Irvine in the 1970s.
He was also found guilty of indecently assaulting a student priest in 1995.
In the letter, Bishop Nolan began: "It is now three years since I became Bishop of Galloway Diocese.
"In that time there have been two priests sent to prison.
"One for financial irregularities and now Father Paul Moore for the much more serious matter of sexual abuse, including that of a five-year-old child."
'Saddened and pained'
He said the priority must be to help the victims. He said: "The damage done is often also spiritual damage destroying their faith in the Church and perhaps even their faith in God."
He stated that he hoped that despite their trauma, the victims could find comfort in the verdict and justice being done.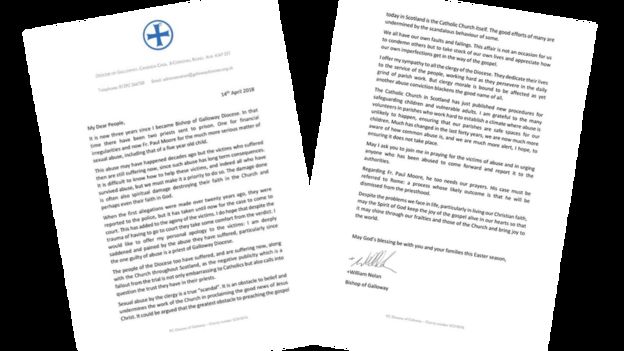 Speaking to BBC Scotland News about the letter, the bishop said: "The sins of the Catholic Church, and people within the Catholic Church are an obstacle to faith.
"Something as serious as the abuse of a child, it undermines the preaching of the gospel and causes people to question faith and the teachings of the church.
"This letter was to be open and upfront and support the people in the diocese suffering by the abuse which has taken place and the fact the church has not been seen to deal with this properly in the past adds to that shame."
He urged other victims of abuse to come forward, but said Catholics should pray for victims as well as Father Moore.
Alan Draper from in-care abuse survivors group INCAS, said the focus should be on the victims and not problems facing the Church.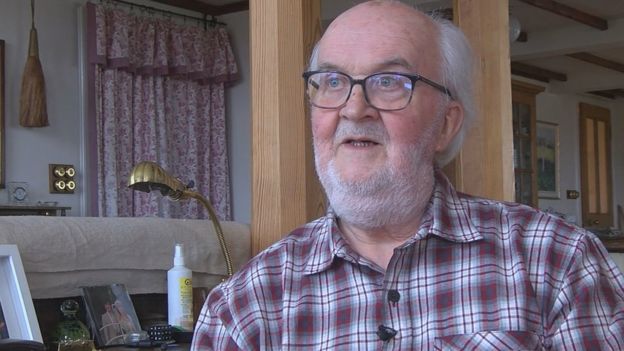 He said: "With respect to Bishop Nolan, I think he is losing the point, which is that thousands of young children have been abused within the Church.
"I think it's important to address that as the primary issue, not the scandal to the wider public.
"It is important the victims do come forward but it is also important to say the bishops have failed victims for decades and I think it's this failure which is the primary scandal as well as the abuse by certain priests.""