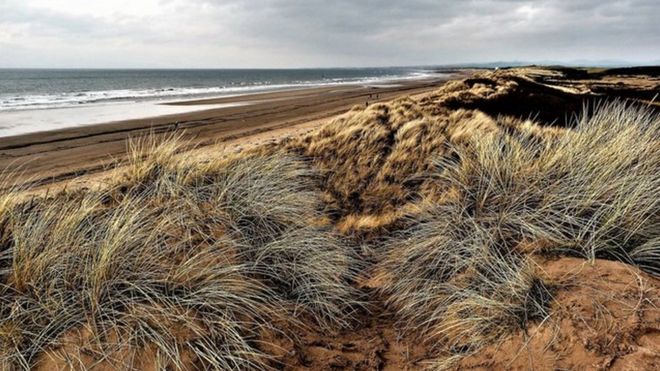 "A former altar boy has told a jury how a priest sexually abused him twice on a beach.
The man, now aged 49, said Father Francis Moore attacked him as they dried off after swimming in the sea at Irvine in North Ayrshire.
The care worker said the priest also patted him "in the groin area" as he covered him in sand.
The 82-year-old retired priest denies abusing three boys and a student priest at various locations in Ayrshire.
The High Court in Glasgow heard the offences are alleged to have been committed between 1977 and 1996.
The former altar boy said the abuse took place when he was 11 and Fr Moore was his parish priest.
Prosecutor Shanti Maguire asked the witness: "Did you do any activities with Fr Moore," and he replied: "We used to do activities as altar boys. Sometimes we would go down the beach, go for a meal or go to the cinema."
Ms Maguire asked: "What happened the first time you were alone with Fr Moore," and he replied: "We were in swimming down the beach. We would go to a secluded area up the top of the beach to change.
"After we finished with the swimming he would take an interest in drying me."
'Numb and confused'
The witness was asked if he was wearing his swimming trunks and replied: "Not when he was interested in drying me."
The man told the jury that the priest went behind him and sexually abused him.
Ms Maguire asked the man: "Was anything said?" He replied: "No, we got dressed and that was it. We went home."
The witness was then asked if anything was said on the car journey back to the church and he responded: "No nothing. There was no conversation, but I was feeling quite numb and confused."
The 49-year-old man told the court that on a second visit to Irvine beach with the priest he remembered lying in sand and the priest covering him with it.
He said: "He would cover me in sand as if playing a game. He covered my front, but took an interest in patting me around the groin area."
The witness said that he told no-one what happened until he was 17 or 18 when he confided in a school friend.
'Staring at boys'
Earlier, another man said that, when he was aged between 11 and 13, he and a group of others went to the Magnum Leisure Centre in Irvine with Fr Moore to swim.
The man, who is now 52, said that as he stood getting dried in the communal changing room Fr Moore said: "We're all boys here," and tried to grab his towel.
Fr Moore, from Largs, is charged with abusing one of the boys at St Mark's Primary School, Irvine, another at the Magnum Leisure Centre, Irvine, and the third at Irvine beach about 40 years ago.
Fr Moore is also accused of indecently assaulting a student priest at a house in Prestwick, South Ayrshire, on various occasions between 1 August 1995 and 31 July 1996.
He also denies a charge of committing a breach of the peace at Prestwick swimming baths on various occasions between 1 August 1995 and 31 July 31 1996 by repeatedly staring at the bodies and private parts of young boys and others in the pool.
The trial before judge Lady Rae continues."