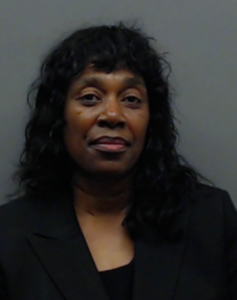 "A mistrial was declared last week in a trial involving a Smith County Commissioner accused of assaulting an elderly woman inside of a Smith County church in 2017.
Smith County Precinct 4 Commissioner JoAnn Hampton appeared in the 241st District Court inside the Smith County Courthouse Monday through Wednesday, Feb. 12-14, for her trail after having been indicted by a Smith County grand jury on two counts of Injury to an Elderly Individual last September.
If she had been convicted of either charge in the case, Hampton would not be allowed to continue to serve as a Smith County Commissioner due to convicted felons not being allowed to hold a public office, according to the Texas Constitution.
Additionally, the jury in the case was tasked with the option of deciding if Hampton knowingly and intentionally caused injury to the elderly person, a crime that carries a sentence of up to 10 years in prison, or recklessly causing the incident, which carries a maximum sentence of two years in prison, plus a $10,000 fine.
On Friday, April 21, 2017 an arrest warrant was issued by 188th State District Judge David S. Brabham in Gregg County charging Hampton with one count of Injury to an Elderly Individual, with a recommended bond set at $10,000.
Hampton turned herself in three days later to the Smith County Jail, where she was processed and subsequently posted bond.
An order in May from the 241st District Court of Smith County released the Smith County District Attorney's office, and assigned the Van Zandt County District Attorney's Office as a Special Prosecutor in the case.
Jury selection begin in Hampton's case began Monday, Feb. 12, with the trial officially starting on Tuesday, Feb. 13.
The incident involving Hampton, a former Tyler city councilwoman and now in her 15th year of service on the Smith County Commissioners Court, occurred on Sunday, April 2, inside of the pastor's office at Spring Creek Baptist Church in the 13000 block of County Road 46 in Smith County, northwest of Tyler.
In the affidavit in the case, the altercation between the victim, identified in the trial as Viola Douglas, 73, and Hampton came about after a discussion regarding decorations for the sacrament table. Both Douglas and Hampton served as deaconesses at the church.
According to information revealed at the trial, Hampton and her husband, Kevin, no longer attend the church.
An investigator mentioned in the affidavit Douglas stated that 'all of a sudden,' Mrs. Hampton burst into the office like a 'raging bull' and was screaming at her. Douglas described Hampton's actions as "pointing her finger in her face, telling her to 'talk to her' if she had a problem, and not to go to the pastor."
Douglas said in the courtroom that Hampton pushed her to the floor, resulting in her believing she might have sustained a broken wrist.
According to Douglas's testimony, she thought that Hampton would continue to attack her if the pastor, identified as Rodney Hood, had not been in the office to stop the incident.
Hood said, in his testimony, that the relationship between Douglas and Hampton has been bad, even going as far as offering pastoral counseling to both women. According to Hood, Hampton's husband declined the offer for counsel on her behalf.
He also stated that he had witnessed Hampton pushing Douglas inside of his office, resulting in Douglas stumbling and falling backwards into a chair, causing her to be injured when her arm fell between two chairs.
As the trial continued on into Wednesday, the court took a recess for lunch at approximately 12 p.m., and reconvening at almost 4 p.m. Once back inside of the courtroom, the mistrial in the case was announced.
As part of the agreement for a mistrial declared by visiting Judge Dwight Phifer, agreed to be both the prosecution and defense attorneys, Hampton addressed the court, apologizing for her actions to Douglas, her now-former church, and the citizens of Smith County she represents on the Smith County Commissioners Court.
"I want to personally apologize to my sister Douglas for my actions on April 2 and the Spring Creek Baptist Church," said Hampton. "I also want to apologize to all the parishioners of Spring Creek Baptist Church, to Pastor Hood and to my constituents. I am so sorry that you had to go through this."
Also a part of the agreement for a mistrial was the stipulation that Hampton must enter a pretrial diversion program for a total of 90 days."