"The secretariat in charge of special services, the fight against drugs and organized crime, has just put on hand N'na Fanta Camara, an old woman who claimed to be able to treat infertility in women, with the help of traditional medicines. The latter, accused of fraud and damage to public health, was presented to the press on Tuesday, January 16, 2018 in the presence of several of its victims, said a reporter from Guineematin.com who was on the scene.
According to her own statements, it's been 20 years since N'na Fanta Camara began her work for which she is arrested today. The old woman who says she inherited this activity from her grandmother, used supposed traditional medicines, to claim to treat infertile women and allow them to have children. Through the immediate effects of her products that give hope to her patients, the lady has managed to make a great reputation and many customers in the neighborhoods of Conakry. But since everything has an end, the activity of N'na Fanta Camara stopped when the secretariat of the presidency in charge of special services, the fight against drugs and organized crime was informed.
"This is the result of a collective complaint of several women filed at the central office in charge of the fight against organized crime, that Wednesday, January 10, 2018 our service proceeded to the arrest of Ms. Fanta Camara with two of his accomplices for fraud, administration of harmful substances and endangering the lives of others. All these ladies who have fertility problems said they had absorbed substances composed of decoctions, barks and leaves that were served by Mrs. Fanta Camara against the payment of 300 thousand francs per person, 10 thousand francs at each consultation, a rooster, a suit of three loincloths to cure their infertility, "Divisional Commissioner Daba Traoré, deputy director of the central office for the fight against organized crime, told the press.
"For her services, patients paid $33 (£24), in a country where the average monthly wage is around $48 (£35)."
The officer adds that the supposed healer forbade her patients to be consulted by a doctor, except his accomplice Etienne Gbanamou, a laboratory technician who calls himself a doctor and manager of a clandestine clinic in Kéitayah, who was also arrested.
Following these arrests, the secretariat for special services, the fight against drugs and organized crime, in collaboration with the medical center "Bernard Kouchner" Kaloum, conducted a medical expertise that gave all negative results, explained Dr. Mamadou Fougué Camara, head of health and prevention at the secretariat of the Presidency for special services, the fight against drugs and organized crime: "At the end of the medical expertise, 47 women were examined voluntarily on the 160 who registered on the list of victims. And all the results are negative, none of them are in pregnancy. The doctor indicates that there are some complications that have been observed in the patients examined: "The complications encountered after the examinations are: anemia, renal failure, cardiovascular complications, diabetes, high blood pressure , increased risk, shrunken or deformed uterus, "he said, pointing out that there are real threats to public health.
A situation regretted and deplored by Colonel Moussa Tiegboro Camara, Secretary General in the Presidency for Special Services, the fight against drugs and organized crime. "This woman represents a great danger, a permanent danger.His arrest is a relief, because N'na Fanta was only poisoning, "said the colonel.He is satisfied with the arrest of this lady, but also worried about the situation of his many victims. That's why he called on the state to rescue them before it was too late: "I simply want to reach out to the state, to come to the help of these poor women there, they have not more hope, it may even cost some of them life. I think that the Ministry of Health must really wake up, "pleaded Colonel Moussa Tiegboro Camara.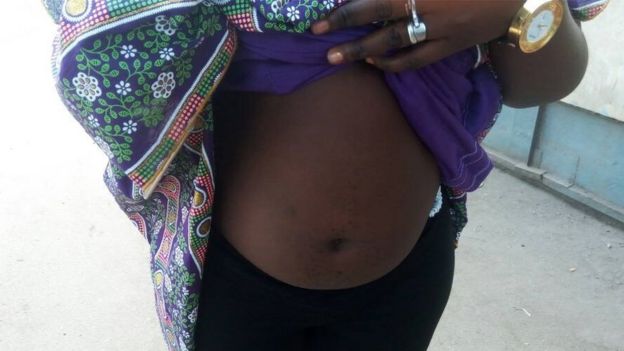 As for the three defendants in this case, two old women and one man, they all denied the scam facts they are accused of. N'na Fanta Camara admits to having actually worked for the women who accuse her, but she assures that her activity was in no way based on bad faith.
"When women come to my house, I tell them it's not me who heals, but it's God.I ask them if they believe in God, if they say yes, I give them the medicine. I did not tell anyone of them not to go to the hospital to be consulted. I just tell them that pregnancy can take time for some and that they have to be patient and believe in God.
God sees me and he knows what I'm doing. If he decides that I will leave my life there, I am ready, "said the main accused.
The healer and her two accomplices will therefore explain themselves a little more in front of justice on what is blamed on them, the justice that will determine if they are actually guilty or not.Victims, who are group members, have already found a lawyer and decided to file a complaint."
(Translated from French by Google Translate)