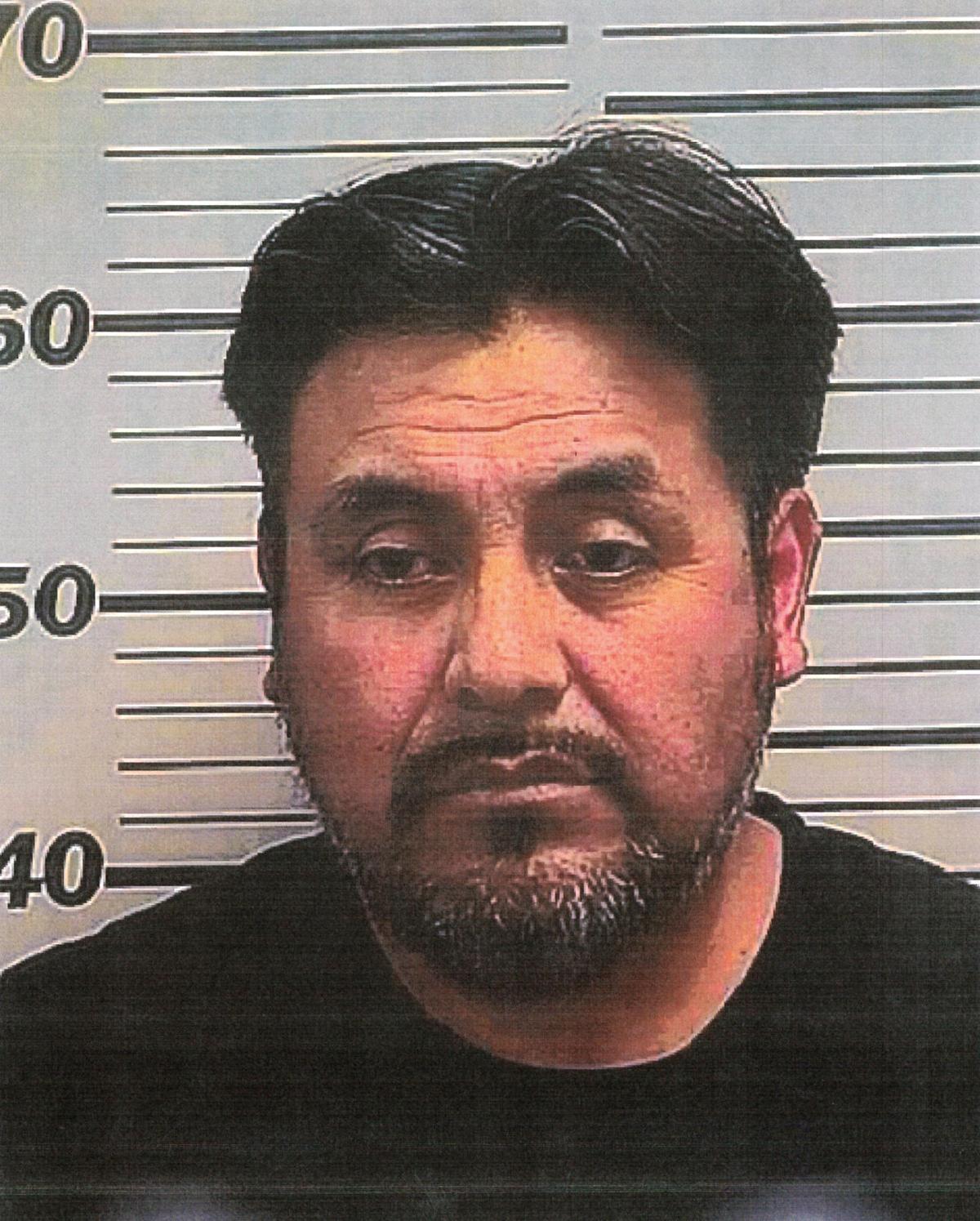 "An man previously deported from the United States was sentenced to 4 to 16 years in prison following a hearing in Madison County District Court on Monday afternoon. During the court hearing the judge found the defendant guilty of sexually abusing a child under the age of 16.
Fernando Lopez-Susano, who was living in the United States illegally, and his attorney, Jay Kohler, came before Seventh District Judge Greg Moeller for sentencing. Lopez pleaded guilty to the sexual abuse charge via an Alford plea last year. In an Alford plea a defendant maintains his innocence but acknowledges that there is enough evidence to convict him.
Lopez originally faced a charge of lewd conduct with a minor under the age of 16 as well as the charge of sexual abuse of a minor under the age of 16. He later pleaded guilty to the latter charge in exchange for the first charge being dropped by the Madison County prosecutor.
Lopez faced similar charges in 2008 involving his current victim's older sister. He was deported to Mexico before his case could go to trial in Madison County, so the charges were dismissed without prejudice. He later returned to the United States, where he continued a relationship with the mother of the girl he was accused of abusing. It is alleged that shortly after returning, Lopez started sexually abusing the younger sister.
The abuse allegedly concerned inappropriate touching and fondling by Lopez when the girl was between the ages of 10 and 15 years old. The abuse did not include intercourse.
The court was originally bound under the plea agreement to sentence Lopez to no more than two years in prison if he passed a polygraph and no other victims were identified.
Lopez originally declined to take a polygraph. When Lopez faced sentencing last September, Moeller told Lopez he faced a stiffer sentence if he didn't comply with the plea agreement. Lopez then changed his mind and agreed to take the polygraph.
Lopez failed the test, testing "deceptive" as to the relevant questions concerning other victims and sexual contact with the current victim and her older sister in 2008.
His attorney said there may have been reasons why Lopez failed to pass the polygraph test.
"May I suggest that Lopez is a very proud Mexican individual and cannot bring himself to admit to these nefarious things," Kohler said. "It's a matter of pride that prevents him from these admissions. Either that or the accusations are false. It's one of the two."
Kohler said any sexual abuse of a child is serious but added that there are "degrees of seriousness."
"In this particular case there was no actual sexual intercourse. If the accusations are true, there was touching. Perhaps if (the victim) had not resisted, it could have been worse," he said.
Kohler said the defendant isn't a sexual deviant, and that he's been an exemplary inmate during the 17 months he's spent at the Madison County Jail.
"Lopez is a rather passive person and not extremely aggressive. There was no physical violence involved in these accusations. There were no threats of 'If you tell anyone, something bad will happen,'" he said. "It is our recommendation the sentence be at the lower end. His criminal history is negligible. There is nothing of consequence other than minor traffic infractions."
The victim was in court and gave an emotional victim's impact statement. She told of how the alleged sexual abuse began when she was around 10, and that she now suffers from anxiety and nightmares. Her school grades have suffered, and she was often afraid of what people would think of her if they ever found out about the alleged sexual abuse.
County Prosecutor Sid Brown asked Moeller to give Lopez a sentence of 1 to 18 years but to retain jurisdiction and to send him on a rider.
"I think that one can only see that the (victim's) testimony (shows) that these allegations are true. She's impressive," he said. "I do agree with counsel that the defendant can't bring himself to the reality — he simply can't say to himself, 'I did what I did,'" he said.
Brown also expressed concern that any kind of sexual treatment Lopez received would prove ineffective because he refuses to admit to the abuse he inflicted on his young victim.
"The psychosexual evaluator said he was highly evasive. Mr. Fernando Lopez gave no information on his emotional characteristics, his social history or his sexual knowledge or sexual history," he said.
Kohler presented Moeller with several certificates that Lopez received while in prison. The certificates are from the 12-step Addiction Recovery Program of The Church of Jesus Christ of Latter-day Saints that Lopez regularly attended. Kohler also gave Moeller several letters from an LDS bishop, LDS Sunday School teachers at the jail and LDS missionaries who had interacted with Lopez.
"It's relevant from our perspective that (Lopez) has not sat in jail watching the clock. He has taken steps to better himself and is making an effort to involve himself in some degree of Christianity," Kohler said.
Moeller acknowledged the letters from LDS church members and friends but noted that some who wrote letters admitted they were unaware of the nature of the charges against Lopez.
"They don't know the things that the court knows," Moeller said.
The judge further explained that while he was aware of Lopez's religious efforts in jail, they would have little impact on his decision.
"Let me be clear: It is not my role as a district judge to determine where you stand with God. It's my job to determine where you stand with the state of Idaho," he said.
Moeller gave Lopez a chance to address the court, which he did through an interpreter. He read a portion of religious text from the 12-step program he had attended about God's love for all his children.
"When I get out of jail, I will be a different man. I want to be a better father, a better son, a better uncle and a better grandfather. I know it's difficult but not impossible," Lopez said.
Moeller asked Lopez why he was attending a 12-step program when he denied having any kind of a sexual addiction problem.
"I know you have steadfastly denied the victim's version of what happened to the presentence investigators. That includes the psychosexual evaluator and the polygrapher. Even in court, you entered an Alford Plea where you're not willing to admit that you have done anything wrong," the judge said. "Now you read to me from a book about getting treatment for addiction. If you haven't done anything wrong, what is the addiction you're getting treatment for or the behavior you're trying to change?"
Lopez said that he didn't want to hurt anyone or develop any kind of rancor in his heart.
"It poisons the soul. I'm not going to say anything bad about anybody. Many times things are said due to rancor and hate. I know that we're not perfect, but if we take account for it and realize there are persons who are discriminated against because they are Hispanic," he said.
Lopez said that he had been told repeatedly that he didn't have any legal papers to be in the United States.
"Many times I have put up with it. People can spit in your face, and it's something ugly. I have been spit in my face because I was Hispanic. One has to put up with many things, and I'm saying that is the truth, Your Honor," he said.
Moeller stated that he had zero tolerance for any kind of racial prejudice, but that was not what he asked Lopez. The judge reminded Lopez that the victim in the case was also Hispanic.
"I didn't ask you about race. I'm just trying to understand why you have so steadfastly denied doing anything wrong, and yet you are in an addiction program. What kind of an addiction are you trying to recover from? I'm earnestly trying to understand you. I just want to know the truth about what happened," the judge said.
Lopez again refused to answer the question directly, replying that the victim denied her Mexican heritage.
"She says she's Hispanic. She's always rejected her blood," Lopez said. He continued to deny the allegations. "It's not all the truth. I just know it's not all true," he said.
Moeller again asked Lopez what treatment he was seeking.
"My concern is that we have a little girl who testified and spoke here in court. She's Hispanic, too. In the report you're basically telling me she's lying, and yet you have made much of the fact you're in an addiction recovery program." the judge said.
Moeller noted that Lopez came from a large family in Mexico. After his father died when he was 16, Lopez made his way to the United States. The judge pointed out that Lopez only had a ninth grade education, but while in the United States, he had worked steadily. He was also a father to two children and a grandfather.
Moeller pointed out he was concerned that Lopez had other victims, and that the alleged sexual abuse in the current case happened on many occasions.
The judge noted that Lopez had repeatedly tried to molest his victim while her mother showered.
"You were an opportunist. You were trying to groom this little girl and touch her inappropriately. You claim through your attorney that you're a very passive person. I suspect the victim would not see you as a passive person," Moeller said. "Perhaps you're not so passive when you're with people you can exploit."
Moeller then sentenced Lopez to up to 16 years in prison. He acknowledged that some might prefer to see Lopez immediately deported to Mexico rather than having taxpayers bear the cost of imprisoning him here. The judge explained that if he merely allowed Lopez to be deported without any prison or treatment, he would abuse little girls in Mexico.
"I can't do that in good conscience. I can't just sentence him to time served and let him be deported. To do so would let a person I believe is a danger and potential risk back into whatever community he finds himself in without any treatment," the judge said. "I am just as concerned about the little girls in Mexico as I am the little girls in Idaho. I believe my obligation lies in protecting society and making sure there are no more victims."
Moeller gave Lopez credit for the 17 months he's served in the Madison County Jail but ordered him to be sent to the Idaho State Penitentiary to complete his sentence. There Moeller ordered that Lopez participate in a sex offender treatment program. Once prison officials release Lopez, he will be deported back to Mexico.
The judge said that had Lopez had sexual intercourse with his victim, the sentence would have been much harsher.
"If she hadn't valiantly protected herself, that likely would have happened. If it had happened, you'd be facing a much graver sentence," he said.
Moeller ordered that Lopez pay $5,000 in civil penalties to his victim. He also required the defendant to pay various court costs and restitution. The judge also told Lopez that he would have to register as a sex offender, potentially for the rest of his life.
Moeller sentenced Lopez to 4 to 16 years in prison but warned Lopez that he may spend the full 16 years in prison if he continued refusing to admit what he had done to his victim."
"If you remain in denial about what you've done and how serious it is, you may spend all 16 years in prison … before you are eventually deported to Mexico," Moeller said.
The judge ended the sentencing by addressing the victim.
"I appreciate your courage in coming forward about this crime and presenting your statement to the court," he said."