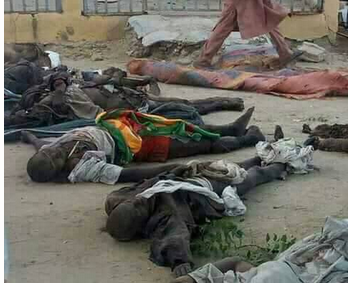 "A teenage suicide bomber has killed ten persons in a  Mosque in Gamboru/Ngala, Borno State in the early hours of Wednesday.
Many worshippers were injured and they have been taken to he nearest hospital for treatment.
Eyewitness said the suicide bomber who had disowned his father, sneaked into croweded mosque before detonating the explosive.
Meanwhile, Theatre Commander, Operation Lafiya Dole, Major General Rogers Nicholas who confirmed the attack, added that the troops neutralised another suicide bomber at Rann, headquarters of of Kala-Balaga Local government area of Borno State."
"Eyewitnesses say the attacker sneaked into the congregation during morning prayers disguised as a worshipper before detonating the device.
No-one has said they are behind the attack Gamboru, a town on the border with Cameroon, but the militant Islamist group Boko Haram is known to operate in the region.
This attack comes less than 24 hours after the leader of Boko Haram, Abubakar Shekau, released a video in which he dismissed the assertions by the Nigerian authorities that the group had been defeated."