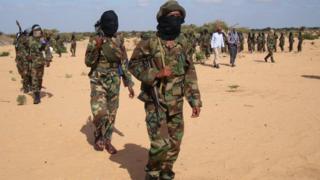 "Somali's militant Islamist group al-Shabab has publicly executed five men accused of spying for the central government and the Kenyan and Ethiopian intelligence services.
The men, killed in Kunturwarey district in Lower Shabelle region, were aged between 23 to 36 years.
The group, which controls large swathes of south and central Somalia, has carried out executions in the past – they usually follow a trial before an Islamic court.
Villagers are then forced to watch the killings, usually carried out by a firing squad.
Last year, 22 people were executed by al-Shabab based on allegations of spying, rape, and sodomy."