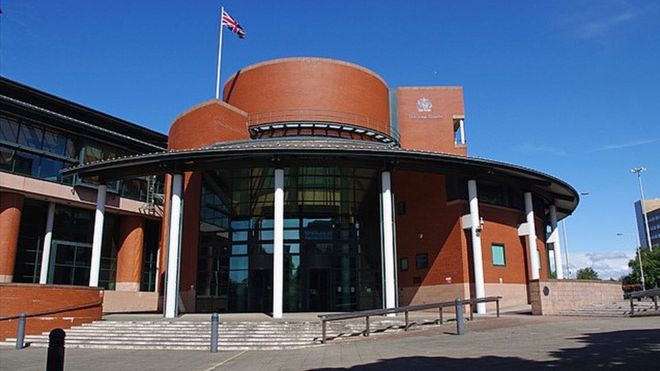 "An alleged self-proclaimed Nazi has appeared in court charged with stirring up racial hatred at two far-right demonstrations in Blackpool and North Yorkshire.
The 22-year-old man from Lancashire, who cannot be named for legal reasons, appeared at Preston crown court on Tuesday accused of breaching section 18 of the 1986 Public Order Act by using "threatening, abusive or insulting words or behaviour" intended to stir up hatred against Jewish people.
The charges relate to two speeches given by the defendant, the first in March 2016 at a demonstration by a group called North West Infidels in Blackpool and the second later the same year at a meeting of the Yorkshire Forum for Nationalists, attended by people from various far-right groups.
The jury was played a recording of the Blackpool demonstration in which a man could be heard describing Jewish people as "parasites" and arguing that Britain had taken the wrong side in the second world war. "We should have been fighting the communists," he said. "Instead we took the side of the communists and fought the national socialists who were there to remove Jewry from Europe once and for all."
The man added: "Yes, I am a national socialist, I'm not scared of that label. You can call me Nazi. You can call me fascist. That is what I am."
Matthew Brook, opening the case for the prosecution, said there was no doubt that the man speaking was the defendant.
The jury was shown a transcript of the second speech, in which the defendant allegedly said he thought Hitler had shown too much mercy to Jewish people.
Brook said the defendant was a self-proclaimed Nazi. "He hates the Jews. This trial is about two speeches he made in which he made threatening and abusive comments about the Jewish race. When making those speeches he intended to stir up racial hatred. He wanted others to hate the Jews in the same way that he does."
Of the second speech, he said the defendant had been explaining his support for a group called National Action, which was banned in December 2016, and was "in effect recruiting for them". "It's clear that the purpose of the speech was to get the audience to agree with his point of view – he was stirring up racial hatred," Brook said.
The trial continues."